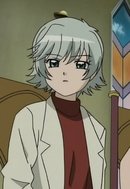 Gokyoya (ごきょうや) is one of Kaoru`s inukami although before she bonded with Kaoru she was bonded with Keita`s father who she had some feelings for but now they go to Keita. She want`s to one day be a doctor so she constantly practices to be one and even wears a lab coat constantly,Gokyoya may also be the oldest out of Kaoru`s inukami and is the most serious out of the pack this can be seen a few times one instance is in chapter 22 when she stops Furano and also when Keita asked her what type of checkups do Nadeshiko and Yoko get at the world creation clinic but she said a lady does not talk about those sorts of thing`s. She also seem`s to carry around small medical thing`s as she took out band aids when she noticed Keita was hurt. It also seem`s that Gokyoya is very close friends with Furano and Tensou as she is around the two the most and knows them very well.
Appearance
Edit
In the manga additional details are revealed about Gokyoya.
Height:150 cm
Bust:81 cm
Waist:56 cm
Hips:83 cm
Age:204
Ad blocker interference detected!
Wikia is a free-to-use site that makes money from advertising. We have a modified experience for viewers using ad blockers

Wikia is not accessible if you've made further modifications. Remove the custom ad blocker rule(s) and the page will load as expected.